According to recent reports there exists a global epidemic facing companies and employers worldwide. Low employee engagement is showing signs of spreading to industries globally and this is correlated with and compounded by organizations having difficulty adjusting to the needs and desires of the next generation of employees known as Millennials. Here are some statistics to add credence to what has been stated:
Two-thirds of millennials plan to leave their current organization by 2020

¹
Employees between 26 and 35 are the least engaged age group in an organisation, at just 67.3 percent of them being engaged ²
Furthermore, here are some stats which will explain what are the dire costs of employee disengagement for companies.
Engaged employees are 87% less likely to leave their organisation ³

An employee's turnover can cost as much as 150% of the given employee's salary

Top quartile companies (rated on employee engagement) saw a 4% sales growth increase, while bottom quartiles were down 8% compared to average companies

70% of business leaders now believe employee engagement is critical for their business
To sum up, employee engagement is vitally important to companies' overall success and one of the biggest challenges facing employers and companies today is engaging the millennial workforce. In this blog post we will examine how a state of the art LMS which promotes 21st century learning can help create a vibrant ongoing learning and development environment and lend to greater employee engagement amongst your millennial workforce.
Generation Y were brought up in an education system which has promoted the ideal of being lifelong learners coupled with being a generation of digital natives who grew up with technology as an intricate part of their life. Due to this providing ongoing learning and development opportunities and using innovative and versatile software are both strongly advisable to engaging millennials. Thus leveraging the right LMS with the right features is a great way for companies to 'kill two birds with one stone' in moving towards greater employee engagement.
Which brings us to our evaluation of what LMS components research has shown are most effective in engaging Millennial employees. Side note, Millennials love top 5 lists, for my generation it was always a top 10 lists :) Strangely this says more than you think! Don't beat around the bush, they are concise, to the point, discerning, etc.
1. m-Learning or Mobile Learning

The youngest of millennials, who will be entering the workforce in the coming years, many could swipe before they could walk. Millennials have grown up with mobile technology and this has taught them a certain brand of resourcefulness. They are comfortable finding answers rather than waiting around to be told. By plugging a question into a search engine or putting it out to peers on a message board to lend their expertise, millennials are used to rapidly accessing answers and information. They also expect anywhere anytime access to information and learning material. This makes having a mobile app an important add-on for any LMS that will appeal to your millennial employees. Learning, sharing and tracking progress on the go should all be features of the app supporting your LMS platform. Social learning and micro learning, which will be discussed below, are greatly supported by mobile learning and a user friendly mobile app enhancing your platform. The expectation is that the knowledge that employees need to interact with, reports and feedback on progress made and the ability to participate in the learning community, will be no farther away than their pocket or purse.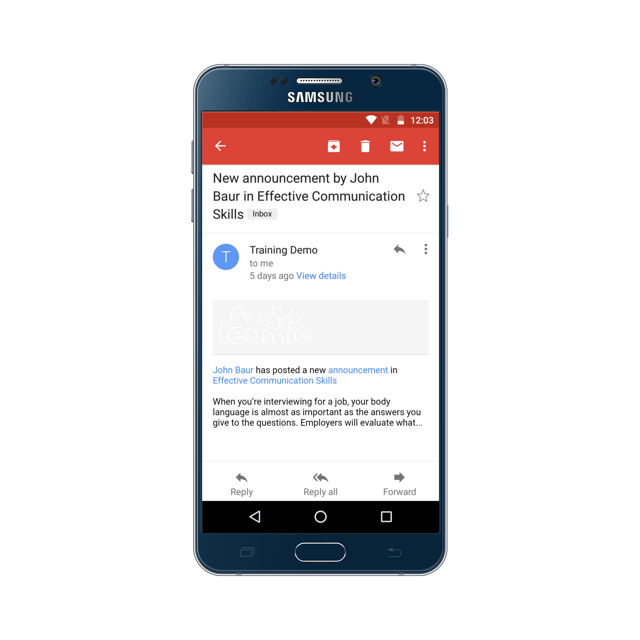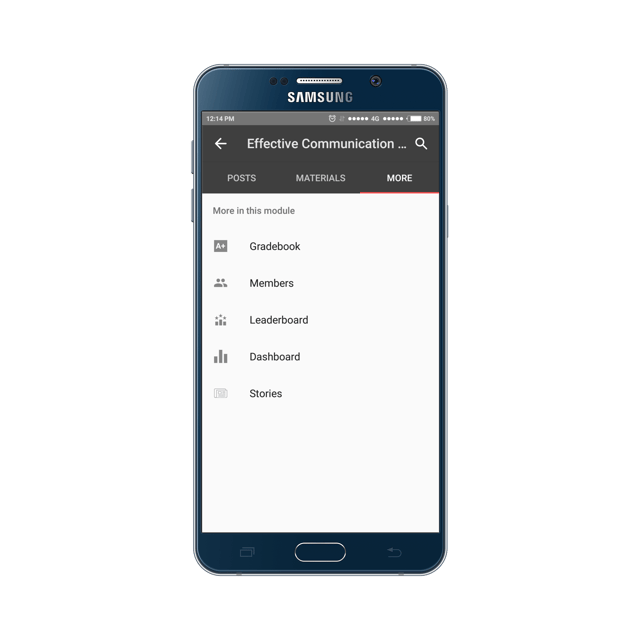 2. Social Learning
Millennials love social media! Much of the communication and socialization that the emerging workforce partake online is via social media and social networking sites. So, shouldn't their trainers and occupational L&D environment harness its power to engage young employees? Due to an upbringing conditioned by social media interaction, having a say and doing it in a social and team-oriented way inspires millennials. These employees have been taught the importance of collaboration and knowledge sharing in an ever-changing environment. Interconnection is of great importance to these younger employees, they need to become enabled and given comfortable tools to ask for help, support one another and build respectful and sustainable online environments.
An engaging LMS will harness the power of social media, and it will model popular features of those which have proven to be most prolific and prominent in millennials lives. A Facebook style newsfeed for the collaborative construction of knowledge, sharing of insights, and peer to peer instruction to take place, is a strong starting point. Apply features like hashtags (#) so that users can search important themes or concepts easily and the ability to provide a short bio on their LMS profiles, like Twitter and Instagram users can. These social media tools leveraged to support online social learning will prove to be invaluable features and capabilities in engaging your millennial workforce. Either for training programs, ongoing L&D or office communication and collaboration it is important that your employees be presented with a socialized, friendly and familiar looking LMS platform.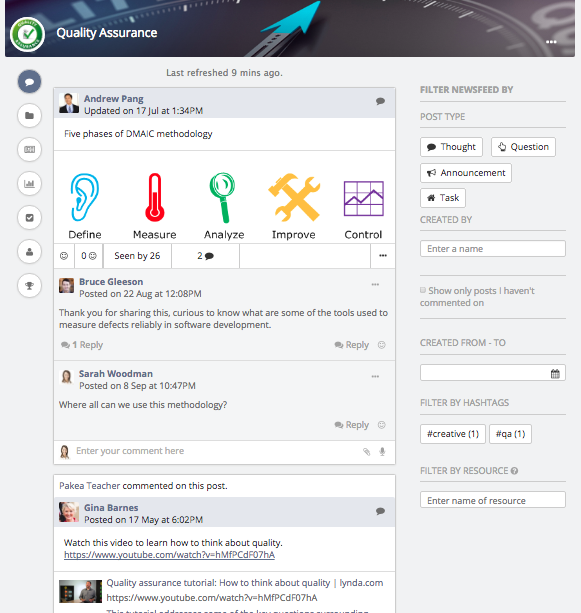 3. Micro Learning
Micro learning means targeted and frequent bite-sized learning content, disseminated to learners through online communities or mobile platforms. This style of learning where learners are not fed in one go; instead they are given smaller doses of knowledge or information at constant intervals, has proven a successful strategy for educating and engaging millennials. Microlearning works best when it can be delivered anywhere and anytime and therefore is best coupled with mobile apps. Twitter, Snapchat, Instagram, and Facebook are all forms of microlearning, an L&D environment, and LMS deployed in it, should mirror this approach and be modified to introduce some/much of the content that you require your employees to learn as bite-sized micro learning. By delivering micro eLearning content in the form of videos, microblogs or infographics, the content is more engaging and accessible to the millennial learners. Choose an LMS that can support in the creation and deployment of microlearning content.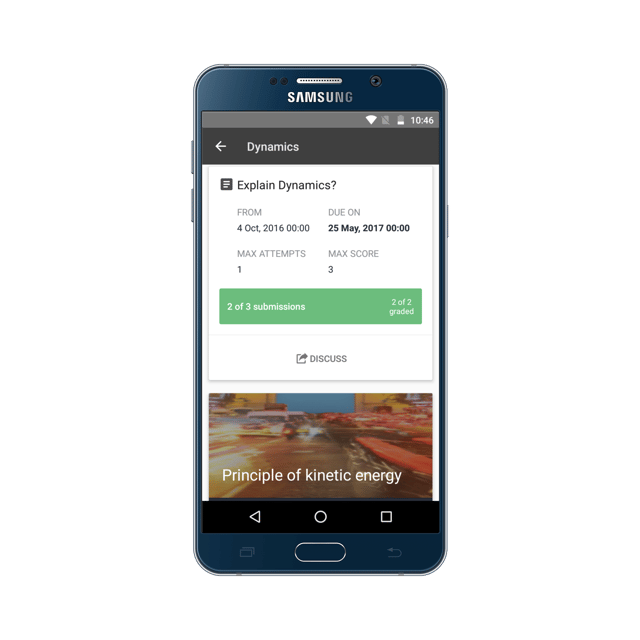 4. Use of Video and interactive multimedia
'Video Killed the Radio Star' (The Buggles) a song written almost four decades ago and interestingly the first song ever played on MTV, prophesied how powerful video and forms of new media will become, and this was pre-internet, if only they knew! With platforms such as YouTube and Vimeo, video learning is now a reality, if you ask millennials, videos are the new text. Why read a text book or article when you can just as easily watch it? Research shows that, websites that are rich with video content, especially interactive videos, keep millennial attention much better than a text heavy website. The continued growth of YouTube and 'vlogs' replacing blogs all speak to millennials' affinity for videos, and this does not change in their learning environment. These employees are comfortable with video and hence by making it exciting and concise will help them to tune in and retain the info. Millennials want not just for video and other multimedia to be embedded in their lessons, but also the ability to share videos themselves to express an opinion or reinforce a point. A well designed LMS should make the process seamless and simple to embed these indispensable multimedia resources in lessons, quizzes or social newsfeed.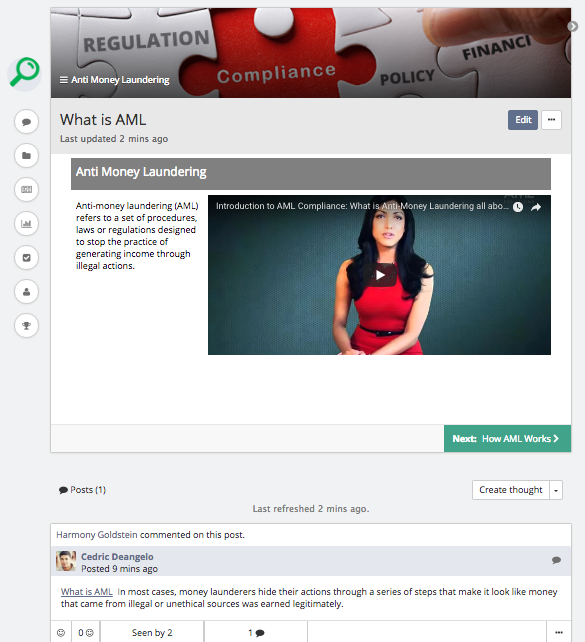 5. Gamification
A generation which was largely immersed in game consoles (Nintendo, PS3), mobile games (Angry Birds, Fruit ninja) or more complex multiplayer online role-playing games (World of Warcraft), is familiar and comfortable with game playing elements. It is no surprise that to increase engagement, companies are adopting several gamification strategies to involve maximum audiences and introduce novelty in everyday tasks. Gamification, or the use of game elements such as points, leaderboards, and achievements to enhance learning experience is especially important to have as an aspect of any LMS which will engage your millennial employees. Gamification appeals to the millennial's perspective that we should mix work and play, the job should be fun and creative and achievements should be recognized and rewarded in an ongoing manner. Gamification is also a great way to tap into mission driven values which have been shown to be motivators to millennials. This mission driven characteristic of millennials is a great asset for employers if they can capture, harness and apply. Gamification in training is also a way to provide on-the-spot feedback in the form of game scores, points, badges or leveling up. It motivates millennials to immediately correct their actions and aim for a higher score which is shared or advertised to peers. As games are just naturally built to engage and motivate the players hence in the same way the LMS that you choose to attract and engage your millennial workforce should definitely encompass gamification elements.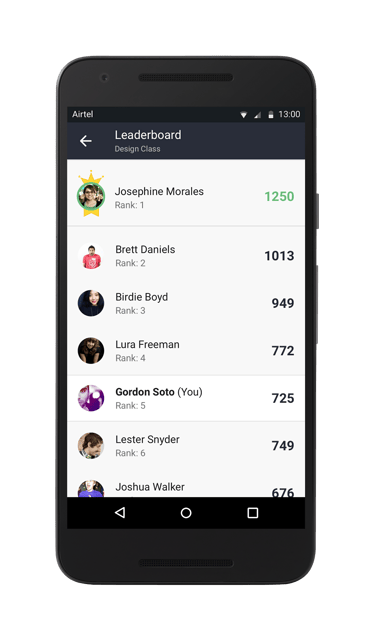 Conclusion
Millennials desire a company that's innovative, progressive and adaptable like them. One of the major areas in which a business can show willingness to change, listen and adapt to its younger employees, is in structuring a progressive training, learning and development culture. A big part of this is choosing the right LMS to support it, one that is conducive to their needs and desires. Essentially, engagement, reward, recognition, constant feedback, interdependence and involvement in the big picture are paramount. It is important to recognise and adapt to the ways that will help you engage millennials, but do note that these measures may also help you to engage other employees in your organisation as well to varying extents.
¹ Shana Lebowitz, Business Insider
² Greg Harris, Entrepreneur India
³ Insync, Impact of employee engagement on retention
Want to learn about the best practices that you can follow to implement mobile learning in your organisation?
Download the report that highlights how you can take into consideration Device, Content, Delivery and Engagement aspects to make mobile learning effective for your teams.